NOW AVAILABLE: eConnect Web Integrator for Retail Management Hero (RMH)!
Our new eConnect integration works with virtually any shopping cart for automated web order download and items sync with RMH!
Maintaining an integrated e-commerce presence has never been easier! eConnect is a middleware utility that facilitates a direct link between RMH (or RMS) and your shopping cart to allow bi-directional communication between both platforms. Download web orders directly into RMH with the security only SSL/TLS can provide.
eConnect simplifies web order management by reducing redundant order entry, improving order accuracy, and centralizing customer management.
eConnect Features Overview: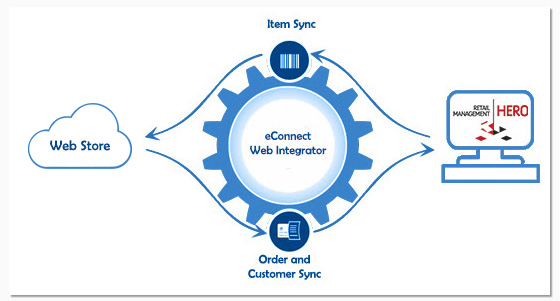 Download Orders from your Web Store into RMH (or RMS)
Set Automatic Updates On Demand, Every Minute, Hour or Day
SSL/TLS Security
Accept Tendered Payments
Create New Customer Record
Create Shipping Record
Create Billing Record
Update Tax Structure
Upload Item Images
Upload Item Descriptions
Update Item Pricing
Display List Price, Sale Price and Savings
Easily Manage Item Categories Between Shopping Cart and RMH (or RMS)
Have Up To Four Configurable Categories Per Item
Two Options Available:
eConnect is available in two flavors; the first is a one-way sync that routinely reaches out to the web server to download an XML web order file, with customers and order details, and
stages it in RMH or RMS as a Work Order to be recalled, picked and fulfilled.
The bi-directional sync option includes not only the XML download of orders but also the upload of new and updated web items as well as inventory availability to the web server. Images can also be uploaded to the web server via FTP.
eConnect, by virtue of being middleware as opposed to an API integration, requires the involvement of your Web Developer. It facilitates access to the RMH item table where your cart administrator can map data attributes to your shopping cart. It also comes with documentation for the web order download schema to ensure the exported web orders from your shopping cart conform to the RMS or RMS business rules.
Our eConnect add-on is cart agnostic, therefore whatever type of system you have on your website, if you need your RMH or RMS software connected to your web store, eConnect is the solution for you!
Contact our team today and learn how eConnect can enhance your web store and RMH point of sale environment!