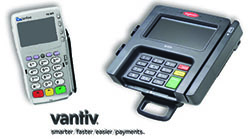 Symmes Township, Ohio – February 8, 2017 – Vantiv has great news for Microsoft Dynamics AX EPOS users. VAX is the latest product release available for payment processing with Dynamics AX EPOS. Features include EMV, contactless Apple Pay, Android Pay, EBT and more, all certified on the Ingenico iSC250 and Verifone VX805 devices.
The merchant services provider has been onboarding Microsoft Dynamics RMS retail users to their Vantiv VIPay platform for RMS since the first version released last year. Seeing the need for integration with Microsoft Dynamics EPOS, Vantiv worked steadily toward this new integration and has released an EMV-ready payments integration with a robust feature set for Dynamics EPOS users.
Contact New West today for more information on payment processing with Microsoft Dynamics EPOS software. Our team is ready to help you evaluate and implement the new merchant services options.