Upgrade Vantiv Magtek iPad Devices Before Support Ends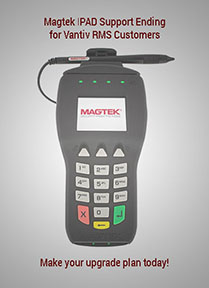 May 24, 2017 – RMS customers with Vantiv merchant services using the Magtek IPAD pin pad devices will want to take action as soon as possible to explore upgrade options for your solution. As of May 31st, 2017, Vantiv is discontinuing support for and sale of Magtek IPAD devices for Microsoft RMS users.
Not to worry, however, Vantiv has options. You can upgrade your Vantiv devices to either the Ingenico ISC250 or the Verifone VX805 device with the Vantiv VIPay integration for Microsoft RMS. Both the ISC250 and the VX805 are EMV ready, increasing security for your payments environment.
Vantiv VIPay features include:
Ingenico ISC250 or Verifone VX805 Device Compatibility
End to End Encryption and Tokenization
EMV and NFC Payments (Chip Cards, Android Pay, Apple Pay, Samsung Pay)
Line Item Display
Tips
Gift Card Processing
Vantiv Card on File
Signature Capture
Flexible Signature Requirements
On-Screen Advertising Manager (ISC250 Only)
Reduced Reconciliation Time
Online Payment Acceptance
PCI Assist
Incredibly Fast Transactions
Improved Customer Experience and Security
We recommend you reach out to your Microsoft Partner or Vantiv merchant services representative today to discuss your options for an upgrade before support for the Magtek IPAD ends.
Contact Us Today for Upgrade Details