Download Payment Integrations
CPay for Global Payments Integrated Genius® platform (formerly TSYS) offers an array of Verifone desktop and mobile payment device options, with integrations available for Microsoft Dynamics 365, Retail Management Hero and Dynamics RMS.
The Genius® platform offers expanded payment types, including EMV (Credit/Debit), Gift, NFC, Magnetic, and more. Global Payments Integrated can also function as a payment gateway if you wish to keep your existing payment provider to link to First Data, Chase Paymentech, Elavon, Global Payments, Heartland, and Worldpay among others. Other gateway gift card options include GiveX, Opticard, SVS, Valutec, ValueLink, Clutch and more.

The CPay for D365, RMH and RMS integrations all feature:
Encrypted Device Options. Point-to-point encryption instantly renders card data useless with cyber thieves!
Advanced security features. Never store cardholder data onsite, reducing PCI compliance burden.
Accept more payment methods. NFC Payments (Apple Pay, Android Pay, Samsung Pay), EMV, Visa, MasterCard, American Express, Debit, Device Manual Entry and more.
Flexible signature requirements. Merchants can set up the transaction amount for requiring a signature.
Improved customer experience. Process transactions quickly and safely for increased customer confidence and security.
Global Payments Integrated offers a great opportunity for users, including free application, no long-term contracts, no account setup fees or cancellation fees, and a meet or beat guarantee. You'll get the best in data security with EMV, signature capture, integrated tips, split tenders, and returns all with easy installation. With 24/7 support, you're always backed up by a responsive technical team.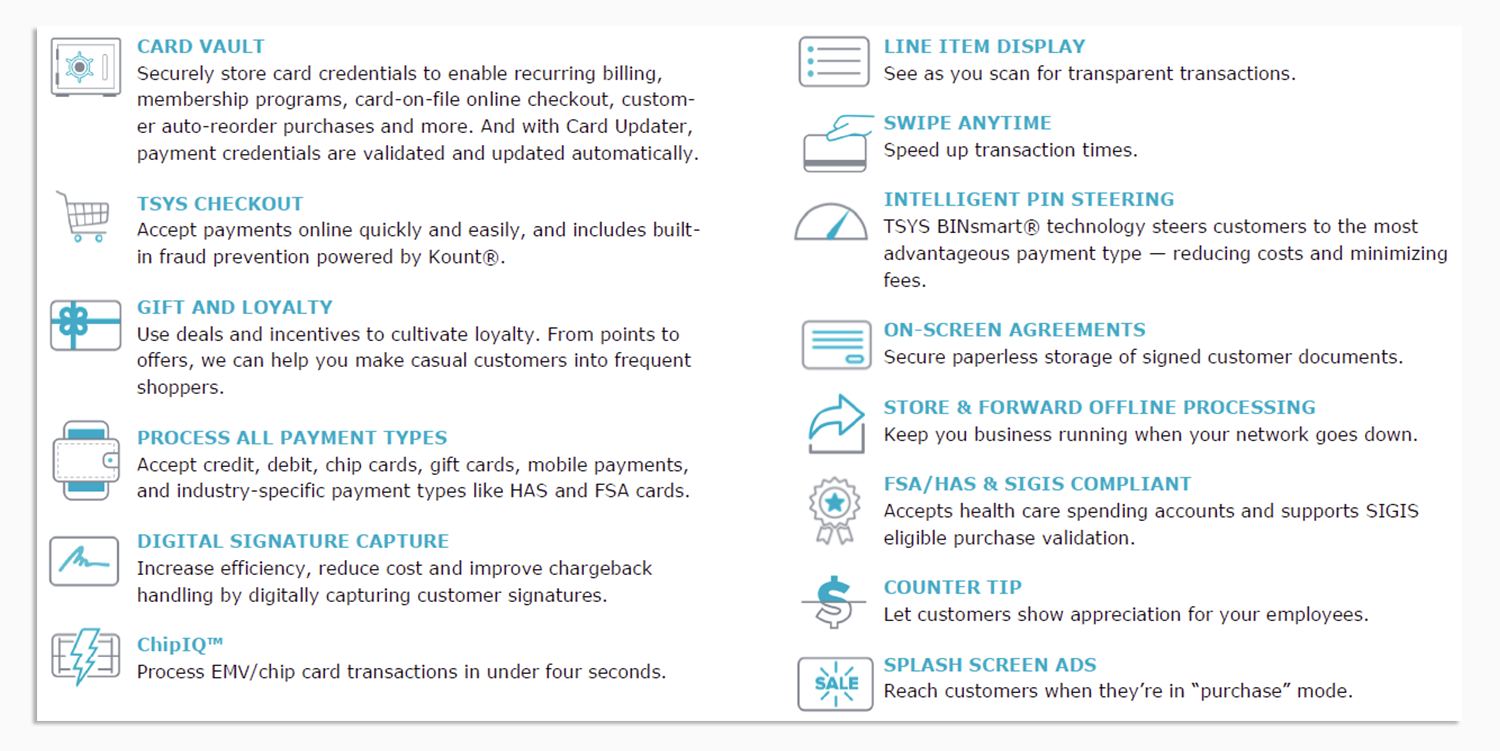 Global Payments Integrated is a technology company focused on transformative innovations in payments, continuously developing new ways for businesses to unlock the power of payments with fully integrated, multi-channel customer engagement platforms including their Genius® Platform. For more information, visit www.tsys.com.
Contact our Sales Team for more information today: