Mobile Suite Pro End of Life Has Passed!

Upgrade to Modern Suite Today!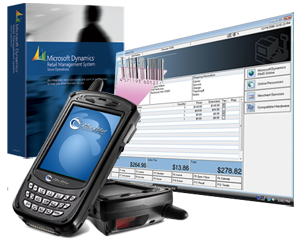 New West Technologies' Mobile Suite Pro is an excellent way to extend your fixed lane Microsoft Dynamics RMS software. Utilizing a hand held device for increased mobility and flexibility; in store or on the road. Our Mobile POS system integrates directly into your RMS system, Mobile Suite Pro gives you the power and functionality of a traditional POS system, while maintaining the robust nature of your full retail system. Using a hand held device and optional mobile Bluetooth printer, you can authorize credit cards, print receipts, automatically update inventory and more.
The full Mobile Suite Pro enables mobile pos with the following modules:
Mobile Cashier
Mobile Manager

Mobile Inventory Count
Mobile Purchase Order
Mobile Work Order
Mobile Transfer
Mobile Label Printing
Mobile Item Manager
The Mobile Cashier and Mobile Manager can be purchased individually, as well as each of the Mobile Manager modules (except Item Manager). This allows for the ability for clients to purchase either the entire Mobile Suite Pro, or select from the individual desired modules.
Related: Mobile Cashier – Increase Your Speed
The Mobile Cashier module enables you to process sales and accept cash, checks, credit cards, and perform sales on account on your hand held device. Combining the power and functionality of your traditional fixed-lane POS system with the versatility of mobility, you will be able to provide outstanding customer service by equipping your team with the tools they need to help your customers. Fast and accurate transactions in less time will lead to fewer customer disconnects.
Mobile Cashier is the perfect solution for queue acceleration, event merchandising, high-touch retail stores, tent sales and anywhere else retail sales need to happen. The robust feature set includes real-time credit card processing, digital signature capture and printing, full mobile POS functionality, and reduction in customer wait time to maximize sales opportunities.
Mobile Inventory Count:
Gain complete inventory management with real-time updating. Inventory Count allows you to add, edit and view items, create aliases and perform inventory counts in real-time or batch count mode.
Mobile Purchase Order:
Create, edit, send and receive purchase orders from a hand held device.
Mobile Work Order:
Manage quotes, layaways, gift registries and work orders.
Mobile Transfer:
Create and receive transfer orders between stores, edit existing orders and recall/redirect transfers.
Mobile Label Printing:
Print item barcode labels using your hand held device and wireless Bluetooth label printer.
Mobile Item Manager (not sold separately, available with Mobile Suite or Mobile Manager):
Scan new items into inventory and easily add to the database, make corrections on existing inventory items and set sales dates for individual items.
Learn more about how Mobile Suite Pro and a mobile pos system, can boost your business!