New West Technologies Announces Release of WPay triPOS for Microsoft Dynamics 365
PORTLAND, Ore., March 17, 2023 /PRNewswire/ — New West Technologies Inc, a leading provider of payment integration solutions, has announced the launch of WPay for Microsoft Dynamics 365, a cutting-edge payment integration solution that seamlessly connects Microsoft D365 with Worldpay triPOS Direct. This innovative connector is set to revolutionize the payment landscape by delivering modernization and smart payments to the D365 ecosystem of channel payments, including e-commerce, in-store, call center, and accounts receivable (AR).
WPay for D365 allows customers to use their preferred payment methods, such as EMV credit, debit, NFC (Apple Pay, Samsung Pay, etc.), and is extensible to encompass quasi-cash options like Venmo, PayPal, or cryptocurrency. Additionally, Click to Pay is available for those seeking convenient AR payments over ACH or digital wallets. With the use of both legacy and new-age devices such as the VeriFone MX925 and Ingenico Lane 3000, 7000, and Link 2500 series, WPay for D365 offers an unparalleled payment experience.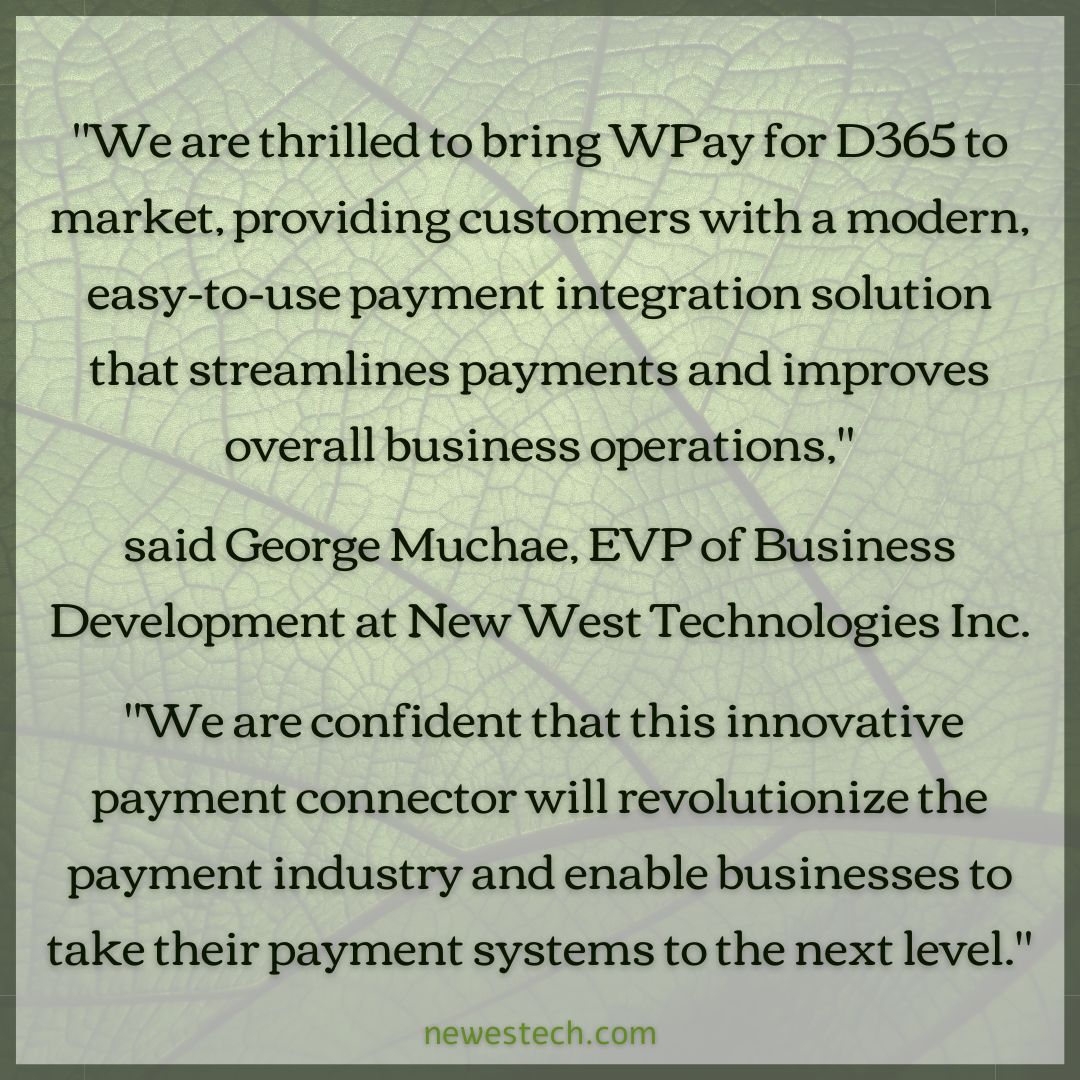 WPay for Microsoft D365 is a cutting-edge payment integration that seamlessly connects Microsoft D365 with Worldpay.
"We are thrilled to bring WPay for D365 to market, providing customers with a modern, easy-to-use payment integration solution that streamlines payments and improves overall business operations," said George Muchae, EVP of Business Development at New West Technologies Inc. "We are confident that this innovative payment connector will revolutionize the payment industry and enable businesses to take their payment systems to the next level."
New West Technologies Inc's WPay for D365 is a true game-changer in the payment integration space. It allows businesses to stay ahead of the curve by providing a cutting-edge payment solution that is both easy to use and secure. With this solution, businesses can streamline their payment processes and offer their customers a seamless payment experience.
New West Technologies is a premier provider of payment integration and retail infrastructure solutions for small and midsize retailers. The company is dedicated to helping businesses streamline their operations and enhance their profitability through its innovative tools and services. With a focus on staying ahead of the curve, New West Technologies invests heavily in research and development to bring its customers the most cutting-edge and up-to-date solutions in the retail tech industry. The company's unwavering commitment to delivering exceptional service and support has earned it a reputation as a trusted partner among retailers across the country.