Store and Forward Versus Offline Support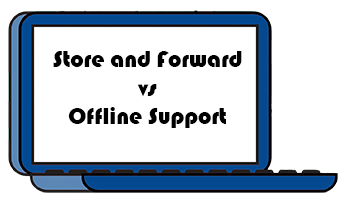 Does your payment solution offer Store and Forward functionality or Offline Support? If you are unsure about this, it's time to check. What will happen to your store if the internet stops working? You can't make a credit card sale without the internet. What happens if your store server breaks down? You can't complete transactions if your store database is offline.
By Eric Linscheid, Quality Assurance Engineer
When your payment solution offers Store and Forward functionality, this means that the program can automatically detect the loss of internet access and still allow you to complete credit card sales. The transactions are encrypted and recorded securely and when internet access is restored, the stored transactions will automatically authorize online and be completed.
With Offline Support, this means that the system automatically detects the loss of the store database server connection and records live credit card sales on the locally stored "offline" database housed on each individual register. When your store server is back online, the system will sync the transactions from each of the offline databases with your main store database.
Sometimes bad things happen, such as loss of internet or network connectivity, and those can bring your store to a complete halt without proper workarounds in place. But it doesn't have to be this way. New West Technologies has merchant services options available to ensure your system has the Store and Forward and Offline Support functionality that your business needs.
In fact, if your store were to lose internet access and your store server were to go down we have solutions available that allow Store and Forward and Offline Support to be used in tandem.
Hopefully, this kind of thing will not happen, but it never hurts to plan ahead and have automatic workarounds ready. These options can make life for your business so much easier, saving you time and money.
If you are interested in discussing the payment solution options we can offer for your Microsoft RMS, AX, D365 or Retail Management Hero environments, contact us today!
***
Eric Linscheid has nearly 20 years of experience in computer technical support and is currently the Quality Assurance Engineer in the New West Development Team. He enjoys reading, camping, the Oregon coast, collecting electronics, and loves cats.