New West Technologies Unveils SensePay for Microsoft Dynamics 365 Business Central: A Transformational Payment Platform for the Next-Generation B2B and B2C Enterprises
Portland, OR – New West Technologies proudly announces the launch of SensePay for Microsoft Dynamics 365 Business Central. Revolutionizing the way small and mid-sized enterprises manage their business processes, SensePay is set to redefine the standards of the finance, supply chain, manufacturing, shipping, project management, and services industries.
SensePay for Dynamics 365 Business Central is a groundbreaking connection tool for Microsoft Dynamics 365 subscribers, providing the opportunity to select your preferred payment processor. In doing so, businesses can leverage the industry's most powerful payment platform, offering an unparalleled sense of freedom and flexibility.
SensePay is a harmonized payment platform, simplifying the process of managing payments across a multitude of channels and transaction points, including storefronts, eCommerce, Accounts Receivable, and Call Centers.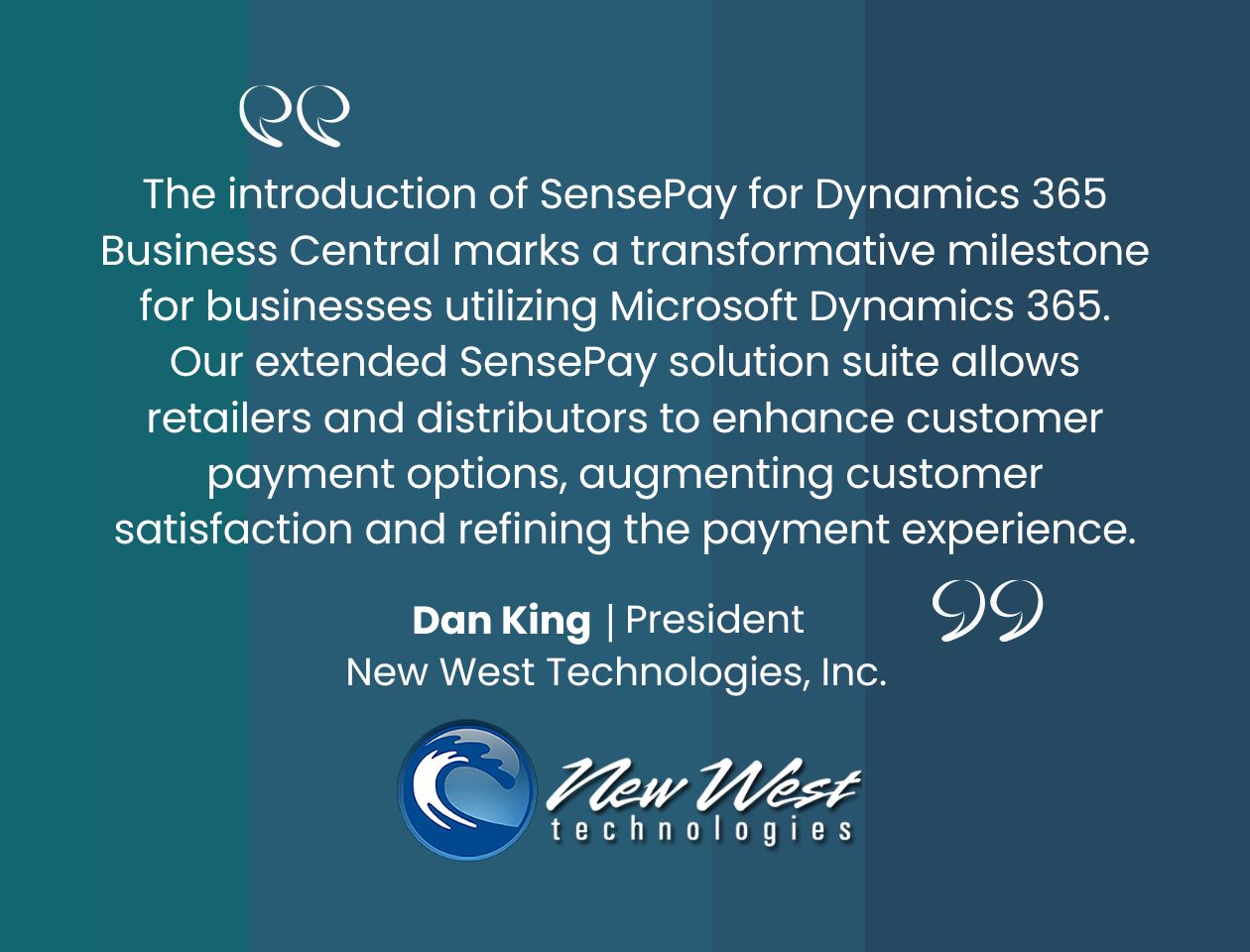 At New West, we've raised the bar for Dynamics 365 users, enriching both B2B and B2C payment methods with a variety of integration options. These include credit/debit card acceptance, e-wallets, quasi-cash, buy now/pay later options, foreign wallets, ACH, Pay-by-Link, and crypto. By diversifying payment options and integrating innovative methods such as Venmo, PayPal, Klarna, BitPay, and others, we empower your business to broaden customer base, penetrate new markets, and boost average basket sizes.
Dan King, President of New West Technologies, shares, "The introduction of SensePay for Dynamics 365 Business Central marks a transformative milestone for businesses utilizing Microsoft Dynamics 365. Our extended SensePay solution suite allows retailers and distributors to enhance customer payment options, augmenting customer satisfaction and refining the payment experience."
SensePay for Microsoft Dynamics 365 Business Central is now available. We invite forward-thinking businesses to learn more about our offering and subscribe for the service via the New West Technologies website.
About New West Technologies: As a leading provider of innovative technology solutions, New West Technologies is dedicated to helping businesses optimize their operations and elevate their bottom line. Committed to pioneering the tech industry's frontier, we invest relentlessly in the latest technologies, cultivating a future of infinite possibilities.
Related: Press Release